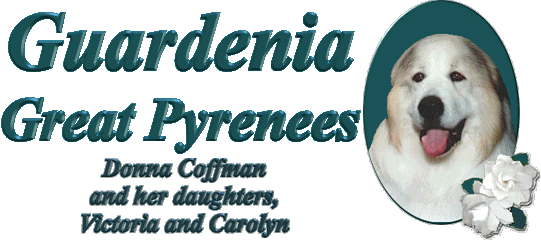 Ch. Rivergroves Bruin Napoleon
OFA Good (x-rayed at 8 years old)
born 3/22/88
"Napoleon" returned to his birthplace at eight years of age.
He was then shown and won his Championship undefeated.
He won the Breed over top Specials from the Classes and went on to place in the Group.
He was not Specialed. He's sired many beautiful puppies, Champions and Specialty Winners.
Up until his passing at 13 1/2 years of age, "Napoleon" was still acting like a happy, playful puppy.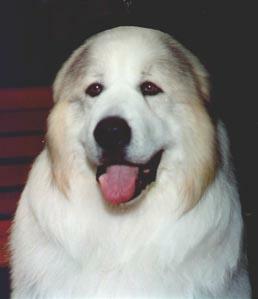 Pictured at 8 years of age.

"Victory belongs to the most persevering." - Napoleon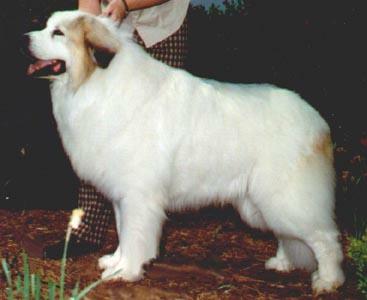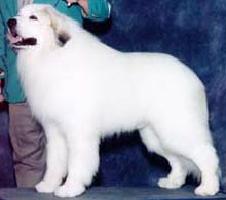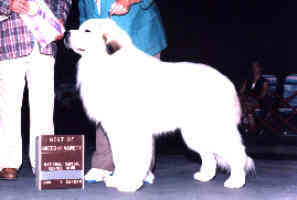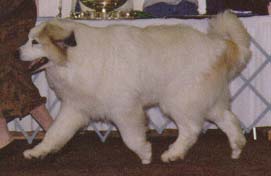 "Napoleon" at the 1997 GPCA National Specialty

This is "Napoleon" (on the far right),
his father, "Bond" (center), and his
uncle, "Looker" (far left) in the
Veteran Sweepstakes 9-11 Years class
at the 1997 National Specialty,
under Judge Ruth Marcy.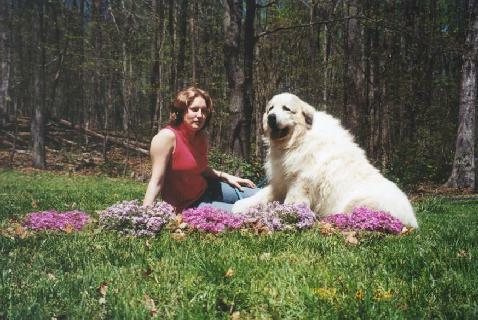 Click here to see a graphical version of "Napoleon's" pedigree.
Ch. Rivergroves Romance the Stone, HOF
Ch. Rivergroves For Your Eyes Only, HOF/HOF
Ch. Rivergroves Designer Genes, HOF
"Napoleon" -- Ch. Rivergroves Bruin Napoleon *
"Willie" -- Ch. Wildon's Aramis DeBois *
"Fresca" -- Ch. Wildon's Queen of Hearts, HOF
Ch. Karolaska Polar Mist
* these dogs were bred by me